The Best Boot Cleaner on the market...
We Guarantee it!
Don't take our word for it. Listen to what our customers have to say about our boot cleaner down this page.
"We've had a Greelyman boot cleaner on site now for approximately six months. Saves me ton of money, and a ton of time cleaning up dirt and debris that is generally tracked inside a house. It will pay for itself in no time at all." ~
Bruce Brock. Brock Construction
"Just crank on the valve and scrub your feet back and forth" It's fantastic, a quick process, easy to operate, and keeps the mud and dirt out of the house that you're building." ~
Ken Ball. Contractor
Tired of tracking mud into your nice clean floors?
Does it take you more than 30 seconds to clean boots that are absolutely caked with cement, dirt, dog crap, or mud?
This thing is so good, that it's used by coal miners all around the world! Now those guys get dirty!
"The Greelyman Boot Cleaner is absolutely the best and fastest way to clean boots... even if they're caked with 4 day old mud... and guaranteed to keep your home, office, or any other floor track free, for the life of the product."
(Which is Lifetime Guaranteed, by the way...)




My name is Mike, and I'm not going to waste your time.
You and your employees (or customers) are either use to spending countless minutes cleaning shoes and boots, or you're not.
You either have a problem keeping dirt off your floors... or you don't.
You're either fed up with getting sprayed in the face, and ending up with soaked socks and pants... or it just doesn't happen.
If it doesn't, this won't interest you. But if happens more times than you care to admit, this might just be the most time-saving, money-saving invention you've encountered in a long time (and it's incredibly cool to see in action.)




Here's some of the benefits you receive from a Jet Powered Greelyman Boot sole Cleaner!

• Cleans boots and shoes in a fraction of the time of other methods
• Gets only the sole of your shoes wet, so your socks, and pants stay "bone dry"
• Easily installs to any hose in under 90 seconds
• Replaces messy hoses, water bins, scrub brushes, other boot cleaners, & combines them all into one highly effective machine
• It´s portable and can be taken and installed anywhere
• It´s heavy duty – Made in the USA out of quality materials for lifetime durability... So we can GUARANTEE IT for a lifetime
• The one product that actually gets the job done… COMPLETELY… EVERY TIME!

The way it works is simple...
The "Scrusher" boot brush scrubs deep down to remove even the toughest clay from the deepest tread. It works hard so you don't have to, and gets into the tread like no other tool can.

Our patent pending jet stream sole cleaner works to break down caked on dirt and clay powerfully and effortlessly.

Our lock in technology keeps the dirt on the ground where it belongs so it doesn't spray up into your face, or onto your clothes! Plus, you can operate the controls with your hands or feet.

It truly outperforms any other boot cleaner on the market.

The Scrusher boot brush combined with our patent pending jets is the perfect package!


You can't lose with our "Best In the World" Money Back Guarantee.

Your satisfaction is assured through our no risk, you-can't-lose, 100%, no-questions-asked, iron-clad money back guarantee. If you honestly don't believe after trying the Greelyman Boot Sole Cleaner that it is the fastest, easiest, most mess free device for cleaning boots in the world, just contact us (or send the product back) within a month and we'll refund 100% of your purchase price. You have a full 30 days to decide!

So don't decide now if this product is for you. Just get it and SEE IT IN ACTION. If it doesn't do everything we say and more… if it doesn't save you time, money, and frustration, we'll refund 100% of the purchase price, with no questions asked!
You have nothing to lose.

Frequently Asked Questions

Q. What makes the Greelyman Boot cleaner so much better than anything I've ever seen before?
A. The patent pending Jet stream Blasts any kind of dirt safely from your soles without harming your footwear or getting your feet sloppy wet.

Q. Will it harm my footwear?
A. The Jets will only blast the underside of your shoes & the side brushes of your scrusher, this is how it cleans the sides of your boots & shoes. The sides of the footwear being cleaned will get wet about 1.5" up from the bottom of the sole, but we guarantee your ankle wont get wet. Common sense is required as to the type of shoes you clean.
If anything, our cleaner will prolong the life of your footwear, keeping them cleaner and more comfortable for longer… so it saves you money.

Q. What if I don't like my new boot cleaner?
A. Well, to put my modesty on the shelf for just a second, I don't think that will happen. BUT if for some reason it's not right for you, we have our "Best In the World" Money Back Guarantee in place to protect you.
However your significant other probably wont let you send it back after they see how it keeps the floor in the house nice and clean ;)

Q. Why does the Greelyman cost more than other boot cleaners?
A. That's an Easy one... It's Tough as nails, it works better than any competing product on the market, and it's guaranteed for a lifetime. Because it's American made (American Materials by American Workers for Heavy duty American use) using the highest quality components, we have to charge more than you'd spend for a less durable, less effective product. All in all, this will save you money, time, and effort.

"We use it [Greelyman] to keep our building free from the mud and grass our employees have on their boots. We also have two Scrushers. Our people do Highway Maintenance which includes cutting grass and working outdoors. Their boots get mud, grass and other debris on them and stuck in the soles. The Scrushers do a decent job with the grass but were not cleaning the mud. We have a new building that we want to keep clean. They were still tracking mud in until we got your boot washer. No problems now, with the side benefit that their boots will probably last longer because the grass and dirt is being removed." ~ Greg Litz - Facility Maintenance Supervisor I Baltimore Harbor Tunnel Maintenance

"Yeah, your boot cleaning system is awesome. Our park (www.thehopewellrocks.ca) is a ocean tidal exploration site where visitors walk on the ocean floor when the tide is out. You can imagine the amount of mud that gets brought off the beach and into our buildings. We have always used boot brushes with no water jets, because they were never available. This system will extend the life of our carpeting for years. Thanks Mike !!" ~ Russ Gallant - Senior Maintenance Manager The Hopewell Rocks



Don't waste any more time or money!

Click Now on the category below that best suits your boot cleaning needs or demands.

Home Use - Industrial Applications
Recommended Products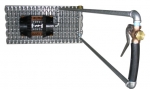 $587.00
Sale Price:
$537.00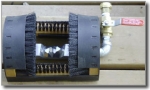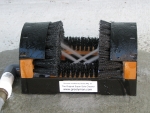 $69.95
Sale Price:
$59.95